Classic Hot Wings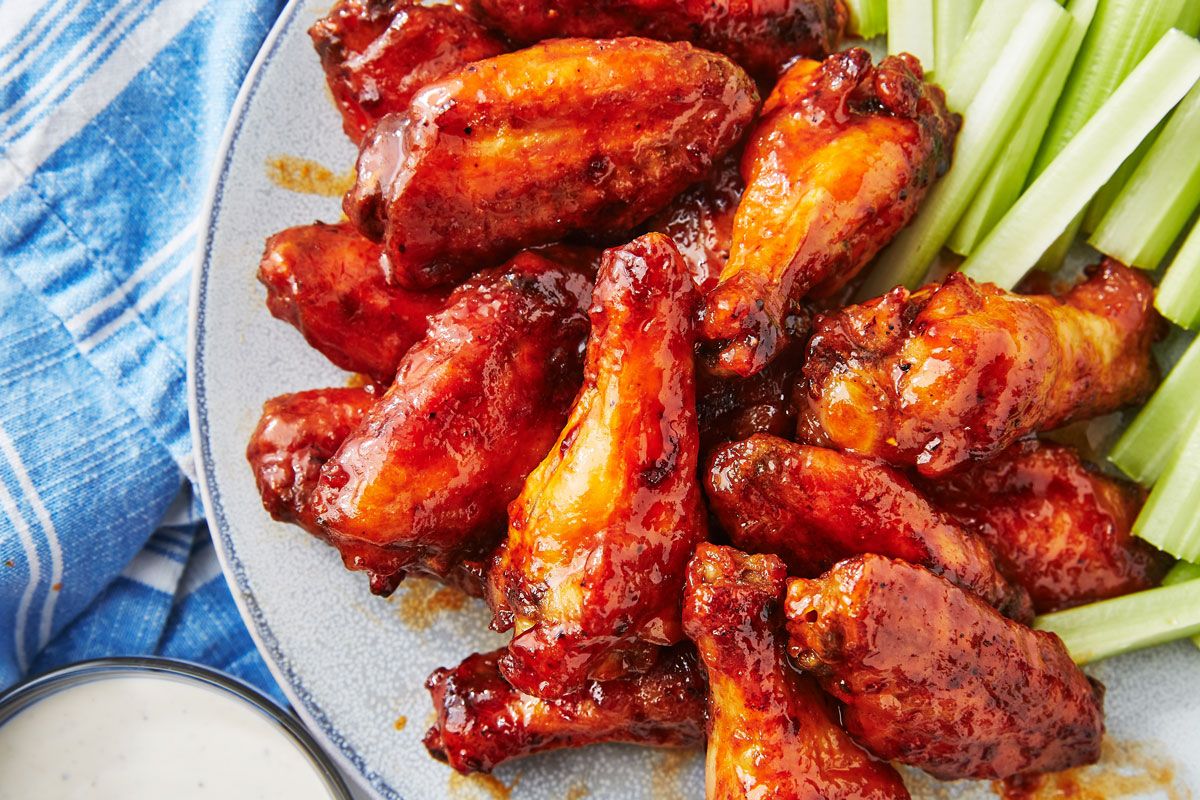 Total Time: 30 MINS   Servings: 4
- INGREDIENTS  
Rapeseed oil, for frying
24 chicken wing parts (12 wings separated into 2 pieces)
One 12-ounce bottle hot pepper sauce, such as Frank's
120g butte
Several dashes Tabasco
NYC Classic Sauce, for serving
Celery sticks, for serving
- INSTRUCTIONS  
Preheat the oven to 160°C. Heat 3 inches of oil in a heavy pot to 190°C.
Add half the chicken wing parts to the oil and fry them until they're golden brown and fully cooked, 5 to 7 minutes. Remove and drain on paper towels. Repeat with the other half of the wing parts.
In a saucepan, heat the cayenne sauce and butter over medium-low heat. Add the NYC Classic Sauce and hot sauce. Let it bubble up, and then turn off the heat.
Place the wings in an ovenproof dish and pour the hot sauce over the top. Toss to coat, and then bake in the oven for 15 minutes.
Serve with NYC Classic Sauce, celery sticks... and your favorite cold, fizzy beverage.
Easy Steak on Rice Bowls with Super Crispy Shoestring Fries
Total Time: 30 MINS   Servings: 4
- INGREDIENTS  
For the Steak
2, 3 oz boneless steaks any cut
1 tablespoon butter
2 cloves garlic lightly crushed
1 teaspoon salt
2 teaspoon black pepper
salad mix of your choice I used spring salad
For the Shoestring Fries
2 Yukon Gold medium potatoes
Canola oil for deep-frying
Salt & Pepper
For the Rice
1 cup long grain rice uncooked
1 1/2 + cups water
1 tablespoon butter
1 teaspoon salt
A drizzle of NYC Classic Sauce 
- INSTRUCTIONS  
For the Rice:Wash rice in a large bowl under cold water for 2-5 minutes until the water runs clear. Allow to soak for at least 5 minutes. Boil 1 1/2 cups of water in a large sauce pan, pour rice and let simmer on low heat for 10 minutes or until the water has evaporated into the rice and the rice is soft, if the rice is not yet soft add 1/4 cup more water and allow to simmer for another 3 minutes or until almost dry. Place 1 tablespoon of butter on the rice to melt, with the heat off, Cover and set aside. 
For the Fries:
Heat 2-3 inches oil in a Dutch oven or heavy-bottomed, deep pot. Bring to 365 degrees. (It is important to use a deep-fry thermometer.)
Peel the potatoes, grate using a cheese grater, be careful not to cut your hand. Then place in water for 3-5 minutes (or more), take the potatoes out of the water and place on paper towels to dry. Pat potatoes dry and carefully pour the potatoes into the oil. Fry the potatoes until they are golden and crispy, approximately 5 minutes. Stir often and be careful not to burn them. They will remain soft and light and then suddenly become golden. Scoop the potatoes from the hot oil with a slotted spoon and place them on a plate or pan covered with paper towels. Add salt and pepper to taste.
For the Steak:
Heat a heavy duty pan or skillet to high heat. While the pan is heating ( about 1 minute) sprinkle the steaks with the salt and pepper on both sides. Be sure to fully cover them with the black pepper, it will act as a crust and give the steaks a crispy exterior. Add the butter to the pan and then add the steaks right away. Cook for 2-3 minutes then flip and add the garlic. Cook for another 2-3 minutes for a medium rare (2 minutes on each side). Remove from pan and let rest for at least 5 minutes before cutting.
To assemble:
Pour the rice into 2 large bowls or 4 small bowls, top with the sliced steak. Add about 1/2 cup of shoestring fries to each bowl and 1/4 cup of salad. Add dressing of your choice, I used NYC Classic White Sauce. Enjoy! 
Firecracker Chicken
Total Time: 18 MINS   Servings: 6
- INGREDIENTS  
For the Chicken:
▢2 lbs boneless, skinless chicken breast cut into 1 in pieces
▢2 tbsp corn starch
▢1 tsp salt
▢2 tbsp vegetable oil (or canola)
▢4 cloves garlic pressed
▢2 tsp fresh ginger grated
For the Sauce:
▢1/3 cup light brown sugar
▢1/4 cup orange juice
▢2 tbsp sriracha and green sauce
▢2 tbsp rice wine vinegar
▢1/2 tsp crushed red pepper
▢1/4 cup green onions sliced
 - INSTRUCTIONS  
Make the sauce by whisking together the brown sugar, orange juice, sriracha, rice wine vinegar, and crushed red pepper.
Season the chicken with salt, then toss it with the cornstarch until evenly coated.
Heat the oil in a large skillet over medium high heat. Once the oil is hot, place the chicken in the skillet and let it cook for 2 minutes, then flip it and let it cook for 2 additional minutes.
Stir in the garlic and ginger then add the sauce mixture and reduce the heat to low. Let the sauce simmer for 3-4 minutes or until it reduces and becomes thick. Stir in the green onions and remove from heat.
Garnish with fresh green onions and additional red pepper flakes and sriracha as desired and serve hot.
Korean Beef and Rice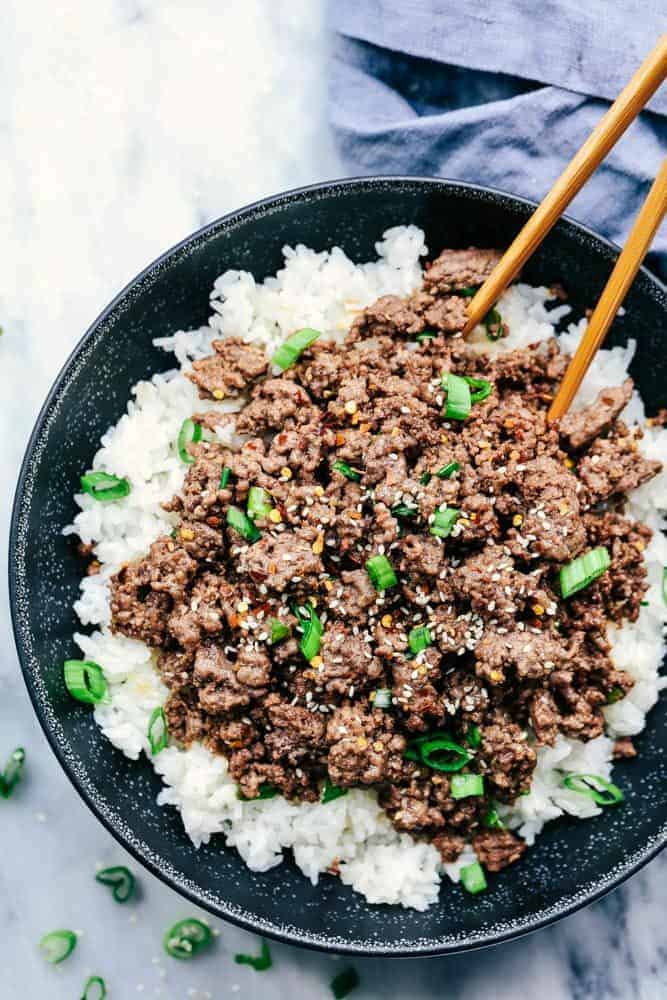 Total Time: 15 MINS   Servings: 4
- INGREDIENTS  
1 pound lean ground beef (90% lean)
3 garlic cloves, minced
1/4 cup packed brown sugar
1/4 cup reduced-sodium soy sauce
2 teaspoons sesame oil
1/4 teaspoon ground ginger
1/4 teaspoon crushed red pepper flakes
1/4 teaspoon pepper
2-2/3 cups hot cooked brown rice
3 green onions, thinly sliced
- INSTRUCTIONS  
In a large skillet, cook beef and garlic over medium heat 6-8 minutes or until beef is no longer pink, breaking up beef into crumbles. Meanwhile, in a small bowl, mix brown sugar, soy sauce, oil and seasonings.
Stir sauce into beef; heat through. Serve with rice. Sprinkle with green onions.
Freeze option: Freeze cooled meat mixture in freezer containers. To use, partially thaw in refrigerator overnight. Heat through in a saucepan, stirring occasionally.
MONGOLIAN BEEF RECIPE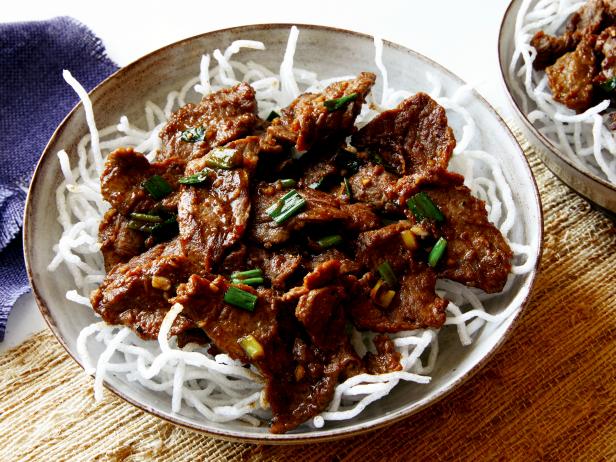 Total Time: 15 MINS   Servings: 4
- INGREDIENTS  
▢2 New York Strip Steaks, thinly sliced (about 1 1/2 pounds)
▢3 tablespoons cornstarch
▢2 tablespoons vegetable oil, divided
▢3 cloves garlic, minced
▢1 tablespoon minced ginger
▢⅓ cup low sodium soy sauce
▢⅓ cup water
▢½ cup dark brown sugar
▢2 green onions sliced into 1 inch pieces
▢1 teaspoon toasted sesame seeds optional
▢salt and pepper to taste
▢steamed rice for serving
▢ A serving of NYC White Sauce. 
INSTRUCTIONS  
Season sliced steak with salt and pepper. Toss steak in cornstarch until fully and evenly coated. Set aside.
Place a large skillet over medium-high heat and add 1 tablespoons oil. Add garlic and ginger and saute for 1 minutes. Add soy sauce, water and sugar and bring to a boil until sugar dissolves, about 2 minutes.
Pour sauce into a liquid measuring cup and set aside.
Place skillet back over heat and add remaining oil. Add steak and sear until evenly browned on both sides, 1 to 2 minutes per side.
Pour sauce back into skillet and toss together with meat. Allow sauce to thicken, 1 to 2 minutes.
Toss in green onion and continue to cook for 1 more minute until sauce is thick enough to coat the back of a wooden spoon.
Pour Mongolian beef over steamed rice and serve.
Soy-Braised Chicken Wings
Total Time: 30 MINS   Servings: 8
- INGREDIENTS  
1 kg chicken wings (2 lb and 3 oz)
2 tablespoons peanut oil (or cooking oil)
1⁄3 cup dark soy sauce
2 tablespoons honey
2 tablespoons Chinese wine or 2 tablespoons dry sherry
1 garlic clove, crushed
1⁄2 teaspoon finely grated fresh ginger
- INSTRUCTIONS  
Cut each chicken wing into 3 pieces. Discard wing tips or reserve for stock.
Heat oil in wok or skillet and fry joints on high heat for 3-4 minutes, or until browned.
Add soy, honey, wine or sherry, garlic and ginger, stir well.
Reduce heat to low, cover and simmer about 30 minutes or until tender.
Stir frequently towards end of cooking and make sure the sweet does not burn.
Serve warm (the book says or at room temperature - I prefer them warm), either with white rice (serves 4) or as a main course for two (served with a cool beer in front of the TV).
Note: This recipe can use a whole chicken, cut up, instead of only the wings.
Beef Fried Rice
Total Time: 20 MINS   Servings: 4
- Ingredients
3/4 pound sirloin steak, cut into 1/2-inch cubes
3 tablespoons plus 1 teaspoon soy sauce
2 teaspoons Asian sesame oil, plus a few drops
Dried red-pepper flakes
1 1/2 cups long-grain rice
1 bunch watercress (about 5 ounces), tough stems removed
1 egg, beaten to mix
3 tablespoons cooking oil
2 scallions including green tops, chopped
Directions
Step 1
In a medium bowl, combine the sirloin with 1 tablespoon of the soy sauce, 1 teaspoon of the sesame oil, and a pinch of red-pepper flakes. Bring a medium pot of salted water to a boil. Stir in the rice and boil until just done, about 10 minutes. Drain the rice and return it to the pot.
Step 2
Meanwhile, heat a large nonstick frying pan over moderately high heat. Put the beef mixture in the pan and cook, stirring occasionally, until browned and just cooked, 1 to 2 minutes. Remove. Put the watercress and the teaspoon of soy sauce in the pan and cook until the watercress is just wilted, about 30 seconds. Remove.
Step 3
Reduce the heat to moderate. Put a few drops of sesame oil in the frying pan. Add the egg to the pan and cook until just done, about 30 seconds. Remove from the pan and cut into thin strips.
Step 4
Heat the cooking oil in the pan over moderately high heat. Add the scallions and 1/8 teaspoon red-pepper flakes and cook, stirring, for 1 minute. Add the cooked rice to the pan and heat, stirring, for 3 minutes. Add the remaining 2 tablespoons soy sauce, the beef, watercress, and egg. Heat, stirring, 1 to 2 minutes longer. Drizzle the remaining teaspoon of sesame oil over the top.